Hi! I'm Kumi ╰(● ⋏ ●)╯



What is pixelkumi?
This is where I create the website I never got to as a child, and also where I collate all my interests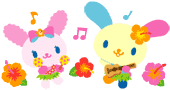 This website is really messy and will continue to be until I learn how to code better.
If you wanna see what kind of cool clothes I've been buying and the outfits I have been wearing - please head to my fashion page.
For 2023 I want to work hard to get better at sewing, cooking and selfcare <3
Enjoy your time here in my space!!!!!!